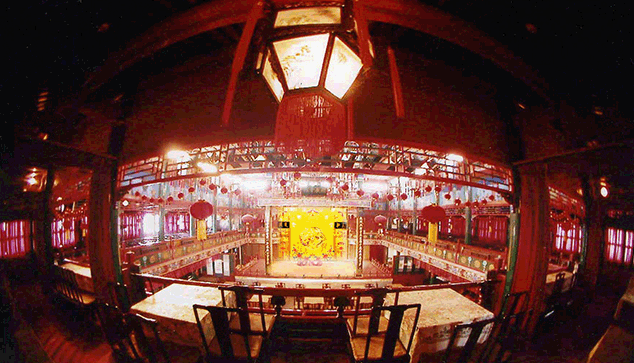 Hufang Bridge, Xuanwu District, adjoining to Hufang Road in the east, Luomashi Street in the north, Beijing Workers' Club in the south and Residential Areas in the west. Now, it is known as No. 3, Hufang Road, where there are a bunch of buildings with carved beams and painted rafters, rubbed bricks with tight joints and green walls, splendid and magnificent like palace and exquisitely carved like a palace of prince. Huguang Guild Hall was established for Hunan and Hubei people in Beijing for contacts and was mainly used for living or gathering. It has a history of over 200 years, and is one of famous guild halls with opera house existing in Beijing now and the first one that was restored as original pattern and open to the public.
It was the former home of high ranking officials in the Qing Dynasty. According to historical records, successive ministers during the reign of Emperor Qianlong and Emperor Jiaqing had lived here, including Liu Quanzhi, Wang Jie, etc. Dr. Sun Yat-sen, the great revolutionist of China had been here for five times, chaired the first session meeting of the Kuomintang and announced the founding of the Kuomintang, and convened meetings of the Kuomintang for several times here. In addition, many performing artists in the operatic circle had given performances here, such as Tan Xinpei, Chen Delin, Wang Zhijun—a famous amateur performer of Beijing Opera. Although Huguang Guild Hall has a splendid history, now it has gradually faded and become dilapidated through severe tests over one hundred years. To protect the precious heritage resource from the ancestor, Beijing People's Government declared Huguang Guild Hall as a culture relic protection site of Beijing in May 1984, and its value was acknowledged further. In December 1986, Zhang Kaiji, a member of Beijing CPPCC and Chief Architect of Municipal Architecture Design Institute, put forward the proposal of reconstructing Beijing Historical Guild Hall into Opera Museum, which aroused attentions of leaders who investigated Huguang Guild Hall and made the decision to restore it later. Through efforts of people from all walks of life over ten years, the restoration of Huguang Guild Hall was completed in April 1996.
On May 8th of the same year, Beijing Huguang Guild Hall was open to the public. The grand opera house was represented with antique colored drawing by workers through careful investigation and study. There is a tablet inscribed with "Nishang Tongyong" that means to sing and enjoy opera together, the couplets on the massive pillars are about 5.3m, the first line of couplets was written "To have an audience with Royal Court, majestic and grand like in Hunan and Hubei" and the second line was written "To sing and dance, delighted and cheered for the profound literature and art". There are square tables of antique beauty arranged neatly at the two-storey auditorium, a more comfortable environment for audiences. It remains the original architecture style that is plain and elegant with spacious attic, carved beams and painted rafters, winding path, and becomes beautiful scenery in the southern part of Beijing. Through long-playing collection of cultural relics and intense preparation, Beijing Huguang Guild Hall was declared to be established as the 100th museum of Beijing [i.e. Beijing Traditional Opera Museum] on September 6th, 1997. The reconstruction of Huguang Guild Hall brings new attractions to Beijing, not only develops tourism resource, but also is conducive to education in patriotism for teenagers. Huguang Guild Hall was listed as one patriotism education base of first batch by Xuanwu District Party Committee and District People's Government.